---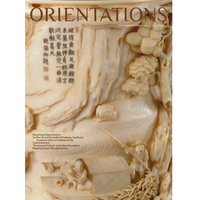 - Size: 28.6 (L) x 21.1 (W) cm
- Binding: softcover, 130 pages
- Language: English
- Publisher: Orientations Magazine Limited, 2022
The Hong Kong Palace Museum, the newest addition to the city's increasingly vibrant cultural landscape, opened to the public on 3 July with the presentation of more than 900 objects from the collection of the Palace Museum in Beijing. The seven-story building is located in the West Kowloon Cultural District with views of Victoria Harbour and contains almost 8,000 square metres of exhibition space across nine galleries. Designed by Rocco Design Architects Associates Limited, the building's spatial configuration was inspired by the 'central axis' concept of the Forbidden City.

To mark this occasion, we include four articles on the opening exhibitions. While some of the objects have never been exhibited before, many are iconic treasures that have been shown widely, thus challenging curators to propose fresh interpretations. The first article looks at a selection of bronzes in the collection of the Qianlong emperor on view in three separate galleries. The contextual diversity of the exhibition themes of each offers alternative perspectives and new narratives. The second presents another of the nine inaugural exhibitions, 'Encountering the Majestic: Portraits of Qing Emperors and Empresses', and focuses on a single type of portraiture. The third examines the relationship between human and horse across time and beyond boundaries, juxtaposing objects from the Palace Museum with those from the Louvre. The last discusses the concept of design in China from past to present and similarities between contemporary works and traditional Chinese craftsmanship.

In our interview, the director of the Minneapolis Institute of Art (Mia), Dr Katherine Crawford Luber, who joined the museum at the beginning of 2020, discusses both the challenges and opportunities she faced while the museum was closed for the pandemic. We include a case study on the Mia's Ya Chou lei, a piece from their collection of Chinese ritual bronzes that has attracted scholarly attention since the 20th century and generated fervent debate around its historical origin, and highlight the reinstalled Himalayan, South Asian, and Southeast Asian art galleries.

The next two articles encompass the theme of trade and exchange. Enamelled metalware was a Western art form that was imported into China but then became highly sought-after as an export. We probe the production of Canton enamels and their consumption both within and beyond the domestic sphere. Qing dynasty enamelled porcelains from the Kangxi (1662–1722), Yongzheng (1723–35), and Qianlong (1736–95) periods in the collection of the Baur Foundation, Museum of Far Eastern Art, in Geneva have seldom been exhibited in their own right. An exhibition opening this fall examines how the palette of coloured enamels developed as a result of interactions between China and the West.

The latest article of our map series looks at mapping projects initiated by the Korean royal court and the renowned geographer Gim Jeongho (1804–66) and aims to present an overview of the history of cartography in Korea during the late Joseon period.