---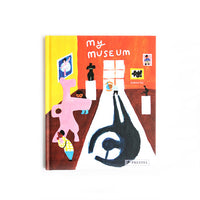 - Size: 22 (L) x 19.5 (W) cm
- Binding: hardcover, 32 pages
- Language: English
- Author: Joanne Liu
- Publisher: Prestel Junior, 2017

"BOLOGNARAGAZZI Award on Art - Architecture & Design 2018 - Special Mention"

Max is going to the museum today. There is much more to see at the museum than just sculptures and paintings. Art is all around us, you just have to discover it. Sometimes the best kind of art is the kind you make yourself.