---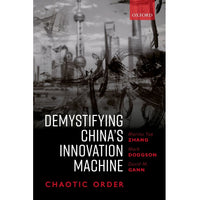 Program on 8 June 2023: Oxford University Professor David Gann: The Changing Innovation Landscape

- Size: 24 (L) x 16.5 (W) cm

- Binding: Hardcover, 304 pages

- Language: English

- Author: Marina Zhang, Mark Dodgson, and David Gann

- Publisher: Oxford University Press, 2022
China's extraordinary economic development is explained in large part by the way it innovates.

Contrary to widely held views, China's innovation machine is not created and controlled by an all-powerful government. Instead, it is a complex, interdependent system composed of various elements, involving bottom-up innovation driven by innovators and entrepreneurs and highly pragmatic and adaptive top-down policy. Using case studies of leading firms and industries, along with statistics and policy analysis, this book argues that China's innovation machine is similar to a natural ecosystem. Innovations in technology, organization, and business models resemble genetic mutations which are initially random, self-serving, and isolated, but the best fitting are selected by the market and their impacts are amplified by the innovation machine. This machine draws on China's multitude manufacturers, supply chains, innovation clusters, and digitally literate population, connected through super-sized digital platforms.

China's innovation suffers from a lack of basic research and reliance upon certain critical technologies from overseas, yet its scale (size) and scope (diversity) possess attributes that make it self-correcting and stronger in the face of challenges. China's innovation machine is most effective in a policy environment where the market prevails; policy intervention plays a significant role when market mechanisms are premature or fail. The future success of China's innovation will depend on continuing policy pragmatism, mass innovation, and entrepreneurship, and the development of the 'new infrastructures'.