---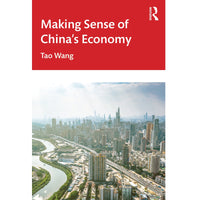 Program on 26 Sep 2023: Making Sense of China's Economy
- Size: 23.39 (L) x 15.60 (W) cm

- Binding: Hardcover, 305 pages

- Language: English

- Author:  Tao Wang

- Publisher: Routledge, 2023
For years, China's transformation from one of the world's poorest nations was lauded as a triumph that lifted hundreds of millions of people out of poverty. There were always questions about data reliability and growth sustainability, but the general views on China have recently taken a decidedly sour turn. Concerns abound about state interference in the economy, an ageing population, and high debt level. Making Sense of China's Economy untangles China's complex economic structure, evolving issues and curious contradictions, and explains some key features of this most puzzling of global economic powerhouses.
This book reveals how factors such as demographics, the initial stage of development in 1978, the transition away from full state ownership and central planning, the dual urban-rural society, and a decentralised governance structure have combined to shape the economy, its development and its reforms. It shows how the pragmatic and adaptive nature of China's policymaking upends familiar perspectives and hinders simple cross-country comparisons. The book also explores crucial topics including the property market, debt accumulation and environmental challenges.
In this book, Tao Wang innovatively weaves the multiple strands of China's economy into a holistic and organic tapestry that gives us unique insights from both a Chinese and an international perspective.
This book is critical reading for business leaders, investors, policymakers, students, and anyone else hoping to understand China's economy and its future evolution and impact, written by a specialist who has studied the country from both inside and out.