---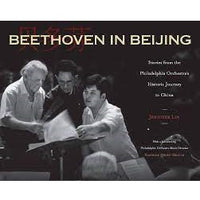 [Pre-order] Expected delivery : 4 weeks

Program on 6 Nov 2023: Beethoven in Beijing - A half century after the Philadelphia Orchestra's historic trip to China
- Size: 20.32 (L) x 25.40 (W) cm

- Binding:  Hardcover, 172 pages

- Language: English

- Author:  Jennifer Lin

- Publisher: Temple University Press, 2022
In 1973, Western music was banned in the People's Republic of China. But in a remarkable breakthrough cultural exchange, the Philadelphia Orchestra conducted a tour of closed-off China, becoming the first American orchestra to visit the communist nation. Jennifer Lin's Beethoven in Beijing provides a fabulous photo-rich oral history of this boundary-breaking series of concerts the orchestra performed under famed conductor Eugene Ormandy.

Lin draws from interviews, personal diaries, and news accounts to give voice to the American and Chinese musicians, diplomats, journalists, and others who participated in and witnessed this historic event. Beethoven in Beijing is filled with glorious images as well as anecdotes ranging from amusing sidewalk Frisbee sessions and acupuncture treatments for sore musicians to a tense encounter involving Madame Mao dictating which symphony was to be played at a concert.

A companion volume to the film of the same name, Beethoven in Beijing shows how this 1973 tour came at the dawn of a resurgence of interest in classical music in China—now a vital source of revenue for touring orchestras.