---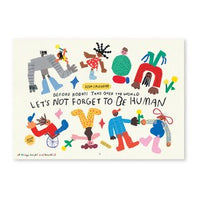 Size: A4, 29.7 (w) x 21 (h) cm (when closed)

Paper stock: 260g cover, 157g inside pages
Includes: Hong Kong public holidays, lunar calendar
Before robots take over the world, let's not forget to be human
In the age of artificial intelligence, humans are considered inferior, weak, and irrational...
Are we on the brink of extinction? What is there to learn about being human?
Humans may be small and slow, but we're free.
We stumble and fall, but we have each other.
We're weird and imperfect, but we are valuable beyond measure.