---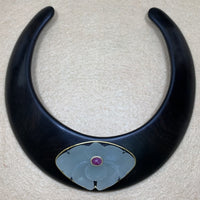 This item is only available for store pick up
location: LG Level, Asia Society Hong Kong Center, 9 Justice Drive, Admiralty, Hong Kong
- Classic wood collar necklace in Ebony set with large 19th century Chinese Nephrite jade flower button and Ruby, hemmed with 18k gold.

- Size: 16 (L) x 16 (W) cm; 3.6 (L) x 5.7 (W) cm (Jade): 0.6 (L) x 0.8 (W) cm (Ruby)

- Materials: Ebony wood, Nephrite jade, Ruby
- Designed and handcrafted in Hong Kong (2020)
Jade is so closely associated with Chinese art, culture and history that this relationship is unparalleled by any other material in any other tradition. With a history spanning thousands of years, jade has long been cherished for its multiple functions, diverse colors and shapes, skillful craftsmanship, and elegant appearance. Hand carved Nephrite jade buttons have been collected and passed down to adorn clothing, hairpieces and be fashioned into jewelry.

For over three thousand years, jade has been considered a stone with profound mystical and spiritual connotations. Craftsmans' hands breathed life into the stone, first creating ceremonial objects to honor heaven and earth, and later jewelry to empower and protect.

Ebony wood from West Africa is known for its density and beauty. It has been used for centuries to craft precious objects found along the trade routes and was even found in ancient Egyptian tombs.