---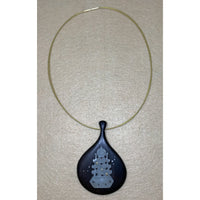 This item is only available for store pick up
location: LG Level, Asia Society Hong Kong Center, 9 Justice Drive, Admiralty, Hong Kong
- 19th century Nephrite Tower with candle lit windows under stars of 18k and sterling silver on Ebony

- Size: 7.7 (L) x 5.2 (W) cm (Ebony); 4.2 (L) x 2.5 (W) cm (Nephrite)

- Materials: Nephrite jade, 18k gold, Sterling silver, Ebony wood 
- Designed and handcrafted in Hong Kong (2020)
Jade's position at the very heart of Chinese art, culture and history is unparalleled by any material in any other tradition. Three thousand years ago, jade was already considered to be profoundly spiritual and mystical. Jade adornment protected the wearer and gave status as well as symbolizing strength and character.
Craftsmen breathed life into the stone with their hands, first creating ceremonial objects to honor heaven and earth and then jewelry that would empower and protect the wearer. Jade has a complex interlocking molecular structure that makes it virtually impossible to carve, so abrasives are used to gently grind away the stone when shaping and designing. Jade is the toughest known gemstone.
Hand carved Nephrite jade buttons have been collected and passed down to adorn clothing, hairpieces and be fashioned into jewelry.
Ebony wood from West Africa has been used for centuries along the trading routes and was even found in ancient Egyptian tombs. Ebony is known for its density and beauty.