---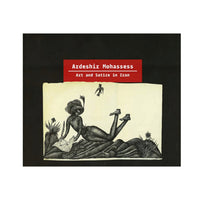 - Size: 23.5 (L) x 28.5 (W) cm
- Binding: hardcover, 120 pages
- Language: English
- Editor: Shirin Neshat, Nicky Nodjoumi
- Publisher: Asia Society, 2008

Ardeshir Mohassess: Art and Satire in Iran brings together approximately 70 of Mohassess's rarely-seen drawings, on loan from the Library of Congress in Washington D.C. and from several private collections in this country. Many of these have never been published in a book or catalogue, and several of the early works were censored in his native country. The book reveals this artist's significant impact on both the international art scene and news media.

The catalogue is organized in two sections: works created before the Iranian Revolution of 1979 and those created after the Revolution. Ardeshir Mohassess has been living in self-imposed exile since 1976. After enduring harassment from his native country's national police, he immigrated to the United States where he has remained. Today, he is considered to be one of the most significant living Iranian artists.