---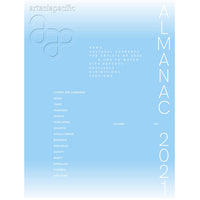 - Size: 28.5 (L) x 21.5 (W) cm
- Binding: softcover, 112 pages
- Language: English
- Publisher: ArtAsiaPacific, 2021
Covid-19 compelled all of us to dramatically adjust our daily lives in 2020. ArtAsiaPacific's Almanac 2021 reflects these adaptations. For City Reports, we asked writers to reflect on the changes that have unfolded where they reside, from New Delhi and Ramallah to Beirut and Seoul. Additionally, five artists, curators, and collectives share their Perspectives on 2020, including Jakarta's ruangrupa, who have been preparing for their edition of documenta 2022, and Olga Veselova, who curated an exhibition in one of the only physical locations still open in Almaty: the supermarket. The Almanac also compiles the most notable news about censorship issues, rights advocacy, developments in the arts infrastructure, and other milestone events. In Cultural Currency, we examine how the art market shifted gears in light of Covid-19, and how these strategies have paid off at fairs and auctions. Elsewhere, the editors select exhibitions and festivals that stood out in 2020, and events to look forward to in 2021. We also spotlight six artists who captured the zeitgeist with their projects and exhibitions: Yoshitomo Nara, Tarek Atoui, Brook Andrew, Mai-Thu Perret, Forensic Architecture, and Leelee Chan.
With these components, Almanac 2021 extends AAP's archive of the artistic phenomena emerging from the dynamic Asia-Pacific region. We are grateful for the Almanac's many contributors, as well as Burger Collection, CL3 Architects, Kukje Gallery, Simon Suen Foundation, Mapletree, Sunpride Foundation, and Stefan Rihs, who made this endeavor possible.
Though 2020 was a challenging year for many, we hope that our readers will see the solidarity and connections that have remained intact in the global art community, despite the shifts and uncertainties of our ever-transforming world.