---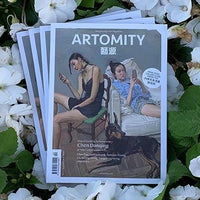 Sale
- Size: 23 (L) x 17 (W) cm

- Binding: softcover, 136 pages
- Language: English and Chinese
-Studio: Vvzela Kook
-Collector: Kai Yin-Lo
-City: Free to Express – Fresh Wave International Short Film Festival by Karen Chu. Sham Shui Po: Curating the Community by Remo Notarianni. Video, Sofa, Bauhinia – Retrospective and Reconstruction of Ellen Pau by Leung Po Shan.

-Hong Kong Gallery Guide: Galleries & Spaces
-Exhibition: Chen Danqing at Tang Contemporary Art by Diana d'Arenberg Parmanand. 
-Folio: Cheng Yin Ngan, Lau Ching-wa Jess.
‭-Reviews: São Paulo Symphony Orchestra at Concert Hall, Hong Kong Cultural Centre by Ernest Wan, Liu Bolin at Over the Influence by Katherine Volk, Liu Heung Shing at Star Gallery by Nooshfar Afnan, Zheng Bo, MAP Office, Leung Chi Wo at Oi! by Caroline Ha Thuc, Various artists at Para Site,by Valencia Tong, Xu Zhen at Perrotin by Katherine Volk, Sebastian Stöhrer at Caroline Chiu Studio by Christine Chan Chiu, Tung Wing Hong at CL3 Architects by Christie Lee, Various artists at CHAT, The Mills by Valencia Tong, Ho Tzu Nyen at Edouard Malingue Gallery by Caroline Ha Thuc, Samson Young at Centre A by Justin Ramsey, Various artists at Osage by Summer Kwok, McArthur Binion at Lehmann Maupin and Massimo de Carlo by Diana d'Arenberg Parmanand
-Back Page: Seated Gambler by John Batten.