---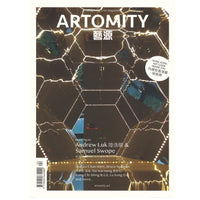 - Size: 23 (L) x 17 (W) cm

- Binding: softcover, 112 pages
- Language: English and Chinese
- Profile: Siu Wai Hang by Christie Lee 
- Studio: LeeLee Chan by Caroline Ha Thuc
- City: Kung Chi Shing at Oi! by Aaina Bhargava. 
- Art Guide: Galleries & Spaces 
- Exhibitions: Andrew Luk & Samuel Swope at de Sarthe by Brady Ng.
Bruce Nauman at White Cube by Diana d'Arenberg Parmanand. 
- Folio: Lau Wai, Florence Tan Xingyu, Liao Jiaming 
- Reviews:
WOMEN 我們: From Her to Here at Chinese Cultural Center San Francisco by DeWitt Cheng.
Sam Francis & Walasse Ting at Alisan Fine Art, Hong Kong by Christine Chan Chiu.
The Art of Hope: New School of Paris at Villepin, Hong Kong by Caroline Ha Thuc.
Angel Hui Hoi Kiu at Touch Gallery, Hong Kong by Christine Chan Chiu.
Lu Song at Massimo De Carlo,Hong Kong by Valencia Tong.
Learning What Can't Be Taught at Asia Art Archive, Hong Kong by Christie Lee. 
- Book review: 
Besiege Me by Nicholas Wong
Noemi Press, 2021 by Jacqueline Leung. 
- Back Page: 
A chameleon sitting on its owner's shoulder in the sun in a park, Sham Shui Po, Kowloon, Hong Kong, 30 January 2021 by John Batten.