---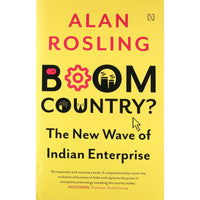 - Size: 22.3 (L) x 14 (W) cm
- Binding: hardcover, 312 pages
- Language: English
- Author: Alan Rosling
- Publisher: Hachette India, 2017

In Boom Country?, Alan Rosling, entrepreneur and strategic advisor in India for over 35 years, explores an unmistakeable and profound change that is underway in the Indian business landscape. A fresh wave of enterprise and start-ups; rapid advancements in technology; government reform and recently developed pools of risk capital, he holds, are contributing increasingly to a massive expansion in new business – all of it underpinned by a deep social change, a willingness to 'do things differently', especially among the young.

Drawing upon his own experiences and more than 100 interviews with Indian entrepreneurs – representing traditional leading business houses (Tata, Mahindra, Birla and Godrej), established first-generation entrepreneurs (Sunil Mittal, Kishore Biyani and Narayana Murthy, among others) and new-generation start-ups (including Sachin Bansal, Bhavish Aggarwal and Vijay Shekhar Sharma) – as well as forces of the government, Rosling provides an incisive and in-depth analysis of the opportunities and challenges, both traditional and contemporary, of doing business in India.

Yet, the growing uncertainty of global trends and India's own record of under-performing despite its massive potential, lead him to one vital question: Can the current upsurge in entrepreneurial activity – imperfect and early as it may be – really reshape India's economy and propel it towards becoming a true boom country for new enterprise?