---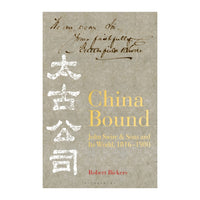 Program 08 Nov 2020: Past Perspectives: China Bound
- Size: 23.4 (L) x 15.3 (W) cm
- Binding: hardcover, 544 pages
- Language: English
- Author: Robert Bickers
- Publisher: Bloomsbury Publishing PLC, 2020
From its origins in Liverpool in 1816, one unusual British firm has threaded a way through two centuries that have seen tumultuous events and epochal transformations in technologies and societies. John Swire & Sons, a small trading company that began by importing dyes, cotton and apples from the Americas, now directs a highly diversified group of interests operating across the globe but with a core focus on Asia. From 1866 its fate was intertwined with developments in China, with the story of steam, and later of flight, and with the movements of people and of goods that made the modern world.
China Bound charts the story of the firm, its family owners and staff, its operations, its successes and its disasters, as it endured wars, uprisings and revolutions, the rise and fall of empires - China's, Britain's, Japan's - and the twists and turns of the global economy. This is the story of a business that reshaped Hong Kong, developed Cathay Pacific Airways, dominated China's pre-Second World War shipping industry, and helped pioneer containerization.
Robert Bickers' remarkable new book is the history of a business, and of its worlds, of modern China, Britain, and of the globalization that entangled them, of compradors, ship-owners, and seamen, sugar travellers, tea-tasters, and stuff merchants, revolutionaries, pirates and Taipans. Essential reading for anyone with an interest in global commerce, China Bound provides an intimate history that helps explain the shape of Asia today.