---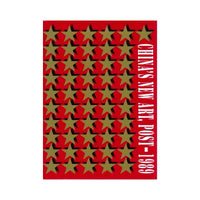 - Size: 34.5 (L) x 25 (W) cm
- Binding: softcover, 360 pages
- Language: Traditional Chinese, English
- Publisher: Asia Art Archive, 2001
This is the catalogue for the seminal exhibition 'China's New Art Post-1989', the first major collection of Chinese experimental art to exhibit outside of the country. It was first held in Hong Kong in 1993 and subsequently travelled to Australia and the United States.

The present catalogue offers an in-depth study of the various artistic undercurrents and general cultural sensibilities for the creation of experimental art in China during the late 1980s and the early 1990s, through contributions from a number of noted critics and art historians. The artists are placed and studied under various categories, namely 'Political Pop', 'Cynical Realism: Irreverence and Malaise', 'The Wounded Romantic Spirit', 'Emotional Bondage: Fetishism and Sado-Masochism', 'Ritual and Purgation: Endgame Art', and 'Spirit Introspection and Retreat into Formalism'.

As Chang Tsongzung, one of the curators of the exhibition, writes, 'The art of the Post-1989 period was significant as it characterised the spirit of the new decade, closing the chapter of the 1980s. It was important also for the fact that it presented to the world the first major coherent overview of China's experimental art scene, and has maintained a continuing dialogue ever since.'

Hanart TZ Gallery, the original publisher, has donated the publication rights of the book to Asia Art Archive. The present copy was republished in 2001, with an extended section on 'Performance Art in China' and a preface by Chang Tsongzung.