---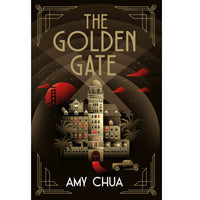 Program on 14 December 2023: 13th Ambassador Burton Levin Memorial Lecture Series with Amy Chua
- Size: 23.40 (L) x 15.30 (W) cm

- Binding:  Hardcover, 385 pages

- Language: English

- Author:  Amy Chua

- Publisher: Corvus, 2023
'An epic, devastating, majestic mystery. Clever, richly imagined and outright thrilling' Chris Whitaker
Berkeley, California 1944: A former presidential candidate is assassinated in one of the rooms at the opulent Claremont Hotel. A rich industrialist, Walter Wilkinson could have been targeted by any number of adversaries. But Detective Al Sullivan's investigation brings up the spectre of another tragedy at the Claremont ten years earlier: the death of seven-year-old Iris Stafford, a member of the wealthy and influential Bainbridge family. Some say she haunts the Claremont still.
The many threads of the case keep leading Sullivan back to the three remaining Bainbridge heiresses, now adults: Iris's sister, Isabella, and her cousins Cassie and Nicole. Determined not to let anything distract him from the truth – not the powerful influence of Bainbridges' grandmother, or the political aspirations of Berkeley's district attorney, or the interest of Chinese first lady Madame Chiang Kai-Shek – Sullivan follows his investigation to its devastating conclusion.
Chua's page-turning debut brings to life a historical era rife with turbulent social forces and ground-breaking forensic advances, when access to power, and therefore justice, hinged on gender, race and class.
'Riveting' Daily Mail
'Intriguing' Sunday Times
'Vividly intoxicating' Janice Hallett