---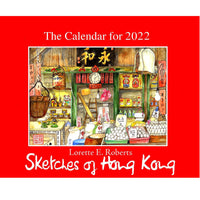 - Size: 17 (L) x 21 (W) cm
- Landscape Calendar
Hong Kong has again inspired pictures for Lorette. Indeed, over time she has captured some changes - for example, in this her 14th Calendar, the 'brolly man' no longer sells his brollies in mid-levels and junks are few and far between. However, familiar images, festivals and new buildings provide us with a comforting continuity, as do her snails hidden in each picture, find them and enjoy her 2022 Calendar !
About Lorette E. Roberts:
Lorette has been producing her Calendars for more than a decade. This is her latest. It delivers, once again, her amazing skills with colour, joy interest and an accurate depiction of Hong Kong's charm and character. There are, as always, images from all over Hong Kong and, along with her previous Calendars, she has now created a portfolio of over 150 images of Hong Kong!
An author, illustrator, and sketch artist, Lorette is best-known for her wonderfully illustrated sketch books, depicting through beautifully crafted drawings and paintings the minutia of life in Hong Kong.
As the UK-based former expat, Lorette settled in Hong Kong in 1997 and returned to the UK in 2006, but she comes to Hong Kong to catch up on life in Asia and hold the artist workshops every year.