---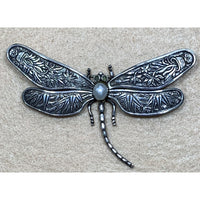 This item is only available for store pick up
location: LG Level, Asia Society Hong Kong Center, 9 Justice Drive, Admiralty, Hong Kong
- Sterling silver repousse Dragonfly brooch with Freshwater Pearl body and Peridot eyes

- Size: 4.5 (L) x 8 (W) cm
- Materials: Sterling silver, Freshwater pearl
- Handcrafted in Beijing (Early 2000's )
With wings of bamboo and orchids, two of our seasonal "four gentleman" flower friends, the dragonfly is gentle and delicate. The dragonfly can quickly change directions in mid flight. Dragonflies are a symbol of new beginnings and prosperity in Chinese and Native American culture.

Pearls: a lunar symbol, also represent water and feminine aspects in many cultures. They are attributes of angelic perfection, which is only achieved by adapting and transforming. Pearls are rare, pure and precious, flawless and white despite being found inside a clumsy shell dredged from the mud.

For repoussé, the craftsman develops a raised image by laying silver sheet on a bed of wax and hammering with special tools to shape the design through from the reverse side.