---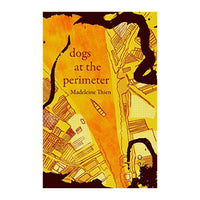 - Size: 22.4 (L) x 14 (W) cm 

- Binding: hardcover, 272 pages
- Language: English
- Author: Madeleine Thien
- Publisher: Granta Books , 2012
2005: In the midst of a cold Montreal winter, a Cambodian woman, known only to us as 'Jani', separates from her husband and son. She takes refuge in the apartment of her friend, the neurologist Hiroji Matsui, but one day he leaves the Brain Research Centre where they are both employed and disappears into the night...

We journey back thirty years from the moment of his vanishing to Janie as a young girl in Phnom Penh, where Cambodia is ruled by the brutal Khmer Rouge. People are seized in the night, families are torn apart, and hunger is everywhere. Helped by a defector, Janie escapes by sea, and arrives in Canada as a refugee. In Montreal, she meets Hiroji - whose brother James, a Red Cross doctor, disappeared in Cambodia in 1975 - and who, like Janie, is haunted by the many lives we carry within ourselves, and the unwieldy shards of history that we make efforts to displace, but fail to extinguish.
Weaving together these fragments in clean, luminous prose, Dogs at the Perimeter is a remarkable, unparalleled map of the mind's battle with memory, loss, and the unspeakable horrors of war.