---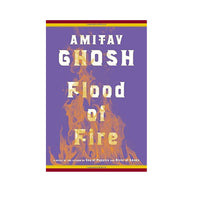 - Size: 21 (L) x 14 (W) cm
- Binding: softcover, 616 pages
- Language: English
- Author: Amitav Ghosh
- Publisher: Picador US, 2016

It is 1839 and China has embargoed the trade of opium, yet too much is at stake in the lucrative business and the British Foreign Secretary has ordered the colonial government in India to assemble an expeditionary force for an attack to reinstate the trade. Among those consigned is Kesri Singh, a soldier in the army of the East India Company. He makes his way eastward on the Hind, a transport ship that will carry him from Bengal to Hong Kong.
Along the way, many characters from the Ibis Trilogy come aboard, including Zachary Reid, a young American speculator in opium futures, and Shireen, the widow of an opium merchant whose mysterious death in China has compelled her to seek out his lost son. The Hind docks in Hong Kong just as war breaks out and opium "pours into the market like monsoon flood." From Bombay to Calcutta, from naval engagements to the decks of a hospital ship, among embezzlement, profiteering, and espionage, Amitav Ghosh charts a breathless course through the culminating moment of the British opium trade and vexed colonial history.
With all the verve of the first two novels in the trilogy, Flood of Fire completes Ghosh's unprecedented reenvisioning of the nineteenth-century war on drugs. With remarkable historic vision and a vibrant cast of characters, Ghosh brings the Opium Wars to bear on the contemporary moment with the storytelling that has charmed readers around the world.