---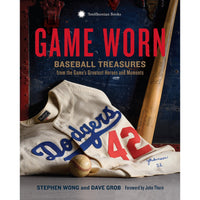 - Size: 27.9 (L) x 22.9 (W) cm
- Binding: hardcover, 302 pages
- Language: English
- Authors: Stephen Wong, Dave Grob
- Photographer: Francesco Sapienza
- Publisher: Smithsonian Books, 2016

Game Worn: Baseball Treasures from the Game's Greatest Heroes and Moments is a richly illustrated exploration and first-of-its-kind compendium study of the world's most coveted and precious baseball uniforms worn by Major League ballplayers during the twentieth century. This coffee-table book features many of the most historically significant uniforms, jackets, hats, as well as other treasured baseball collectibles that tell us as much about the history and soul of America as they do about the game and the players.

Some of the extraordinary highlights featured in this book include: Babe Ruth's road jersey from his first season with the New York Yankees (1920), the sole surviving uniform from the infamous 1919 World Series, Joe DiMaggio's rookie uniform from 1936, the Boston Red Sox road uniform Ted Williams wore during his epic 1941 season, Jackie Robinson's Brooklyn Dodgers home jersey from the 1952 season, Bill Mazeroski's Pittsburgh Pirates home uniform worn to hit the game-winning home run in game 7 of the 1960 World Series, and a visual feast of rare uniform styles.

Each of the 71 entries includes sumptuous photography of the uniform and associated memorabilia, as well as a poignant and lively narrative highlighting its significance. The book also features a first-of-its-kind illustrated compendium with elaborate definitions of relevant terms that every baseball fan and collector needs to know, ranging from the All Star Game Uniform to the Zig-Zag Stitch. This book is an absolute must-have for anyone who has ever loved the game of baseball.