---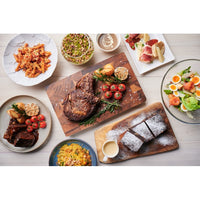 This item is only available for pick-up

Location: AMMO, LG Level, Asia Society Hong Kong Center, 9 Justice Drive, Admiralty, Hong Kong

Please click Here for more details of delivery service
AppetizerClassic Caesar Salad served with Smoked Salmon, Garlic Croutons, Parmigiano, Melting Egg OR Assorted Ham & Cheese Platter (Spanish Ham, Chorizo, Manchego, Melon & Bread Toasted)Soup (serves 4)Wild Mushroom Cream Soup OR Lobster Macchiato (+HK$160)PastaPenne alla Sorrentina, Guanciale, Tiger Prawns, Garlic Panko OR Roasted Pumpkin Risotto, U.S. Kale, Hazelnuts, Honey MascarponeMain (served with Roasted Garlic & Potatoes, Roots Vegetable & Veal Jus)Sous-Vided USDA Prime Short-Rib Boneless OR Roasted USDA Prime O.P. Ribs (Doneness: Medium) (+HK$500)Desserts (serves 4-6)72% Dark Chocolate Hazelnut Brownies served with Vanilla Sauce OR Pistachio Tiramisu (+HK40)
Terms & Conditions
• Available for pick-up and delivery from 12pm to 6pm, every day.
• Order must be placed 4pm the day before. Any orders placed after 4pm will be processed the next following day. For example, if the order was placed at 8pm on January 1, the order will be delivered on January 3.
• Pick-up is welcome for any amount of spending.
• No cancellation or refund can be made upon payment receipt.
• Product information, pricing and images are for reference only.
• We recommend that you consume the goods within a day of receiving the item. If not, store in the refrigerator at 0°C or below and cook within 3 days of receipt.
• In any case of dispute Asia Society Store and AMMO reserves the right of final decision.