---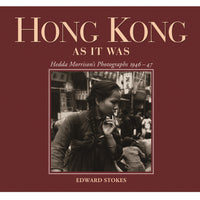 - Size: 29 (L) x 26.4 (W) cm
- Binding: Hardcover, 228 pages
- Author: Edward Stokes
- Publisher: Hong Kong University Press, 2009
In September 1946, when the photographer Hedda Morrison reached Hong Kong, it remained little changed from decades earlier. Acclaimed for her images of China taken in the 1930s and 1940s, Hedda Morrison delighted in recording the patterns of everyday life. Now, captivated by Hong Kong and its people, she embraced the colony's diversity. For six months, cameras in hand, Morrison roamed its districts, streets, coasts and valleys.
Within years, much of what Hedda Morrison witnessed in 1946–47 would be swept aside. Yet when she was there Hong Kong life still had its old feel and traditions, with fine colonial precincts, tenement streets, bustling markets, itinerant hawkers, fisherfolk and rice farmers. In this book, Morrison's telling images are complemented by Edward Stokes' essays portraying the postwar years.
Hedda Morrison's photographs are the work of a masterful, artistic photographer. However, fewer than thirty of this book's photographs had been published before. It was those images, first sighted in a 1946 government report, that led Edward Stokes to begin searching for Morrison's original negatives—which later were discovered at the Harvard-Yenching Library, Harvard University.
This is a unique record of a now vanished Hong Kong—the most complete pictorial account of how the colony looked during the decades from the early 1930s to the 1950s. Hedda Morrison's photographs will appeal to all who value documentary images and Asian history.
This new edition contains over three-quarters of the photographs from Hedda Morrison's Hong Kong, the original edition of this book published in 2005. The complete English text, which has been widely praised, accompanies the photographs. Reviews of Hedda Morrison's Hong Kong appear below and on the back jacket.
"Hedda Morrison's Hong Kong can be considered a book of great distinction. It is also a sensitively produced record, interpretation and ethnographic memoir of a Chinese place with global significance at a time that few now remember. No one except Hedda Morrison had the time, the skills and the facility to make permanent the memory of a time and place that no longer exist. Edward Stokes has done a masterly job of allowing us to journey back." —Pacific Affairs "
The story of how Edward Stokes unearthed—and documented—over 500 extraordinary negatives of Hong Kong from 1946–1947 is told in this lavishly produced book. However, that story is merely engrossing background to the real story, which is told beautifully by the photographs themselves, with a series of fascinating essays that bring the history of the period to life. Hedda Morrison's photographs cover a mere six months. Yet they document, as never before, a lifestyle largely unchanged from the 1930s to the 1950s." —Asian Art News