---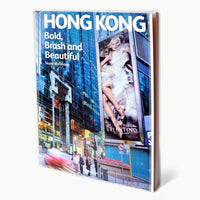 - Size: 36 (L) x 27 (W) cm
- Binding: softcover
- Language: English
- Author: Stuart Wolfendale
- Publisher: Formasia Books Ltd, 2011
Bold and brash, Hong Kong, with it's glitzy reach-for-the-sky architecture, is no shrinking violet when it comes to outdoor advertising. Small in size and huge in ambition, chameleon Hong Kong has accentuated its superlatives by challenging its rivals to the title of Billboard Capital of the World.
No other major cityscape is quite so dominated by giant promotional displays blazoned with towering emphasis across acres of building facades – or wrapped dramatically around various modes of public transport. In a city where anything not only goes but is taken for granted, advertising on a grand scale is simply part of the rampant and unashamed capitalism that makes the city so special.
Bold, brash and beautiful is a lighthearted look at the power of provocative imagery in Hong Kong.