---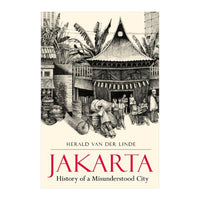 Program 23 September 2020: [Webcast] Jakarta- History of a Misunderstood City
- Size: 23 (L) x 15.5 (W) cm

- Binding: softcover, 232 pages
- Language: English
- Author: Herald Van Der Linde
- Publisher: Marshall Cavendish Editions, 2020

Jakarta, for most people, conjures up scenes of sultry, dusty air, nightmarish traffic jams, shopping malls selling identical ware, and, of course, floods. Yet there is so much more to Indonesia's capital than meets the eye. Inspired by the vibrant mix of people who have arrived over the centuries and made this place their home and the labyrinthine kampong that criss-cross the mega-city, HERALD VAN DER LINDE casts a unique look at the history of Jakarta through the eyes of individuals that have walked the streets through the ages and, as far as history allows, tries to follow their life stories.

Tracing the evolution of this Javanese city from pre-colonial times to the bustling metropolis it is today, Jakarta reveals how the new set of challenges confronting the city today-congestion, poverty, floods and land subsidence- mirror the struggles it had to face in the past. It is also, ultimately, a love letter to the city, written by one of its long-time residents to his adopted home.