---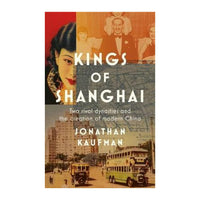 Program 13 Nov 2020: Past Perspectives: The Last Kings of Shanghai
- Size: 23.2 (L) x 15.4 (W) cm
- Binding: softcover, 384 pages
- Language: English
- Author: Jonathan Kaufman
- Publisher: Little, Brown Book Group, 2019
'A masterpiece of research, The Last Kings of Shanghai is a vivid and fascinating story of wealth, family intrigue, and political strategy on the world stage from colonialism to communism to globalized capitalism' Susannah Heschel, Eli Black Professor of Jewish Studies, Dartmouth College

An epic, multigenerational story of two rival dynasties who flourished in Shanghai and Hong Kong as twentieth-century China surged into the modern era

Shanghai, 1936. The Cathay Hotel, located on the city's famous waterfront, is one of the most glamorous in the world. Built by Victor Sassoon - billionaire playboy and scion of the Sassoon dynasty - the hotel hosts a who's who of global celebrities: Noel Coward has written a draft of Private Lives in his suite, Charlie Chaplin entertained his wife-to-be, and the American socialite Wallis Simpson reportedly posed for 'glamour' photographs. A few miles away, Mao and the nascent Communist party have been plotting revolution before being forced to flee the city.

By the 1930s, the Sassoons had been doing business in China for a century, rivaled in wealth and influence by only one other dynasty - the Kadoories. These two Jewish families, both originally from Baghdad, stood astride Chinese business and politics for more than one hundred and seventy five years, profiting from the Opium Wars; surviving Japanese occupation; courting Chiang Kai-shek; and nearly losing everything as the Communists swept into power. In Kings of Shanghai, Jonathan Kaufman tells the remarkable history of how these families ignited an economic boom and opened China to the world, but remained blind to the country's deep inequality and to the political turmoil on their doorsteps. In a story stretching from Baghdad to Hong Kong to Shanghai to London, Kaufman enters the lives and minds of these ambitious men and women to forge a tale of opium smuggling, family rivalry, political intrigue and survival.