---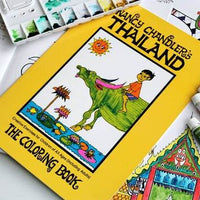 - Size: 29 (L) x 21.5 (W) cm
- Binding: softcover, 32 pages
- Language: English, Thai, Japanese
- Author & illustrator : Nancy Chandler
- Publisher: NCG Marketing Ltd, 2001
This non-traditional coloring book takes children on a tour of Thailand led by friendly 'jing joks' (little Thai lizards), each page designed to entertain, educate and inspire.
Don't expect children to stay quiet if they are old enough to read Nancy's fun comments. And don't expect the usual results at the end of each activity. Nancy designed this book with the hope of inspiring young artists to think 'outside the lines'.
All pictures are preceded by descriptions in Thai, English and Japanese, and creative suggestions from the artist (such as adding sunburned family and friends to a beach scene or coloring elephants anything but grey). For proud parents, pages are perforated and laid out to allow pictures to be individually removed and posted or framed.