---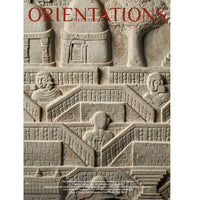 - Size: 28.6 (L) x 21.1 (W) cm
- Binding: softcover, 100 pages
- Language: English
- Publisher: Orientations Magazine Limited, 2023
VOLUME 54 - NUMBER 4
The long-awaited 'Tree & Serpent: Early Buddhist Art in India, 200 BCE–400 CE' exhibition opens at the Metropolitan Museum of Art this summer, featuring more than 140 works, including major loans from India. We are honoured to have the curator of the exhibition, John Guy, the Florence and Herbert Irving Curator of the Arts of South and Southeast Asia, as our guest editor. Guy, whose interests are in the temple arts of the Hindu, Buddhist, and Jain traditions, and in the ceramic and textile trade of the Indian Ocean diaspora, is the mastermind behind numerous major exhibitions, including 'Lost Kingdoms: Hindu-Buddhist Sculpture of Early Southeast Asia' in 2014.
The new exhibition tells the story of the pre-Buddhist origins of figurative sculpture in India and shifts the narrative from northern India to the south in the Deccan, focusing on the art of the Satavahana and Ikshvaku dynasties. In addition to figurative imagery, Buddhist art was dominated by emblematic devices such as trees and serpents, which symbolize spirits taking natural forms and hark back to a pre-Buddhist time. 
Excavations of the Kanaganahalli stupa in the Indian state of Karnataka at the end of the last millennium have deepened our knowledge of the lives of monks through both images and inscriptions. The findings reveal information about monks' interactions with both laity and royalty, yet surprisingly little about the lives of nuns, perhaps because they were accepted only reluctantly by the Buddha who had never ordained any himself. Unlike Hinduism, Buddhism encouraged trade and was ultimately spread through maritime trade networks in ancient South and Southeast Asia. Also worshipped by Buddhist traders were the god of wealth, Kubera, and his spirits of fortune, Shankhanidhi and Padmanidhi. Trade routes disseminated images of these gods adopted from Hindu mythology, from Andhra Pradesh in southeastern India to Sri Lanka, where their subsequent development made them unique to the island.
In 2022, the Saint Louis Art Museum mounted the exhibition 'Chinese Silk Textiles of the Ming and Qing Dynasties', highlighting works from the museum's permanent collection. We bring readers some of the rarer examples, including late Ming (1368–1644) brocade fragments, an embroidered silk hanging, and, from the Qing (1644–1911) imperial workshops, a pictorial hanging, an altar frontal, and a hat.
A total of 946 ancient Chinese gold and silver objects from the Mengdiexuan Collection were generously donated to the Hong Kong Palace Museum in 2022, instantly elevating the museum's Chinese gold and silver collection to one of the best of its kind. Alongside further loans from the Mengdiexuan Collection, these magnificent artworks are featured in 'Radiance: Ancient Gold from the Hong Kong Palace Museum Collection and the Mengdiexuan Collection', on display through this September. The objects reveal the depth of cultural exchanges between different societies in East Asia and the role gold played in the diplomacy and social life of the region.
FEATURES
John Guy. Ubiquitous Trees and Snakes— Early Buddhist Imagery of Āndhradeśa
Oskar von Hinüber. Monks and Nuns in Early India: Glimpses of Life in the Satavahana Monastery
John Guy. Buddha and the Jewel-filled Casket: The Piprahwa Reliquaries and the Cult of Relics in Early Indian Buddhism
Osmund Bopearachchi. Images of Gods of Wealth: Kubera, Shankhanidhi, and Padmanidhi Sailing from Andhra to Sri Lanka
Philip K. Hu. Chinese Silk Textiles of the Ming and Qing Dynasties from the Saint Louis Art Museum
Raphael Wong. Radiance: Ancient Gold from the Hong Kong Palace Museum Collection and the Mengdiexuan Collection
Ning Tang. Three Aspects of Sino-Japan Exchange Reflected in a Rare Handscroll
Hugh Moss. The Origins of Guyue Xuan Enamelled Glass Wares: A Documentary Group of Qing Imperial Enamels Produced in the Inner Palace between 1767 and the 1770s
REVIEWS
James Bennett