---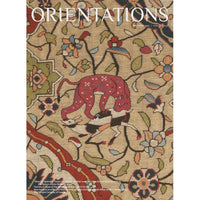 - Size: 28.6 (L) x 21.1 (W) cm
- Binding: softcover, 108 pages
- Language: English
- Publisher: Orientations Magazine Limited, 2022
We devote this issue of Orientations to textile arts, from majestic imperial silk robes to Persian carpets to humble garments made out of fish skin. We feature six articles on the 'Weaving Splendor: Treasures of Asian Textiles' exhibition at the Nelson-Atkins Museum of Art in Kansas City, Missouri, that was on view from 25 September 2021 to 6 March 2022. The museum, opened in 1933, grew from the combined estates of William Rockhill Nelson, founder of The Kansas City Star, and Mary McAfee Atkins, a retired school teacher, who both believed in the importance of art and culture. Although renowned for its encyclopaedic collection, it is especially strong in its superb collection of Asian art, much of which was assembled under the guidance of the museum's first curator of Asian art and second director, Laurence Sickman (1907–88). Even as the Covid pandemic brought great disruption to museums, it also created opportunities and a time to reflect. 'Weaving Splendor' is one of four exhibitions that re-examined and presented the museum's rarely seen collections in a new light. The works span court dress, theatre costumes, furnishings, and textiles for trade and diplomacy.
In 2019, the Minneapolis Institute of Art (Mia) acquired a collection of textiles from Thomas Murray, which forms the majority of works included in the 'Dressed by Nature: Textiles of Japan' exhibition, on view from 25 June to 11 September 2022. These 18th and 19th century examples from the Japanese archipelago include ceremonial robes from the Ainu in the north to garments from Okinawa in the south and represent a diverse tradition. Clothing is functional and, at the same time, perhaps the most accessible form of projecting one's social status and taste.
The Mughal period (1526–1857) painting Jahangir Embracing Shah Abbas in the collection of the Freer Gallery of Art, Smithsonian Institution, Washington, DC, is a painting that we revisit often in Orientations. The painter, Abu'l Hasan (c. 1587–c. 1630), influenced by Persian, Hindu, and European traditions, created a new hybrid aesthetic that was well-suited for the propaganda efforts of his patron, Jahingir (r. 1605–27). We also include aerial photography of Chasma-I Nur, near Ajmer, mentioned in an inscription on the painting to provide further context.
Swaim is a remote hamlet located in the political sub-unit of Himgiri in the very northwest of Chamba, close to the border with Kashmir. Except for a monograph on the cultural heritage of Chamba published by Dutch Indologist J. Ph. Vogel in 1911, there has been little interest from Western scholars, especially in the architectural remains. Being less portable than sculptures, the architectural fragments can be considered most likely original to the site, and thus are reliable sources for a tentative reconstruction of the history of the compound. Their stylistic and iconographic features provide fresh data for the study of art historical and religious developments in northern India, particularly of Chamba.