---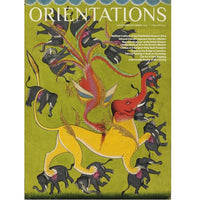 - Size: 28.6 (L) x 21.1 (W) cm
- Binding: softcover, 100 pages
- Language: English
- Publisher: Orientations Magazine Limited, 2023
VOLUME 54 - NUMBER 6
I had the pleasure of visiting the Philadelphia Museum of Art in 2019 and seeing its many treasures, just before the start of the Covid-19 pandemic. A new exhibition, 'Mythical Creatures: China and the World', opening there this December compares mythical creatures across cultures and highlights the universal importance of myths and legends to each culture's core beliefs. The Philadelphia Museum of Art is also home to a collection of Japanese swords formed by Edmund Zalinski (1849–1909), the inventor of the 'dynamite gun', who, during his travels to Japan in the 1890s, was able to acquire over 200 blades which he later donated to the museum.
Opening this fall on the 75th anniversary of Myanmar's independence from Britain is the exhibition 'Burma to Myanmar', at the British Museum. Given the country's complex history and ethnic diversity, the objects in this exhibition serve as both historical records and as cultural conduits. The Burrell Collection in Glasgow reopened last year after five years of extensive refurbishment. The museum holds a significant number of Chinese and Islamic artworks amassed by shipowner Sir William Burrell (1861–1958), including a collection of notable Chinese ceramics.
'Ruby back' eggshell porcelain is a type of polychrome Chinese ceramic likely produced in the early 18th century. We focus on examples with a specific motif of a woman with two boys to explore whether this style is of Chinese or Western origin. We trace how a particular form of a Buddhist reliquary stupa that originated in the Wuyue Kingdom (907–78; situat-ed in today's Zhejiang, southeastern Jiangsu, and parts of Fujian) acquired new meanings along the southeast coast of Chi-na during the Song period (960–1279) as a result of China's increased engagement with maritime activities. There is a known group of almost 200 paintings associated with the Taklung Monastery of the Kagyu Buddhist tradition located north of Lhasa. We present a dating system for these 12th to mid-16th century paintings through their visual lineages.
We highlight the works of Shen Jingdong (b. 1965), a contemporary Chinese artist best known for his portrait series, and offer a contextual investigation of his works, notably his depictions of soldiers and significant figures from past and present.
We discover Wu Junyong's humour and creativity in his paintings of wild animals and creatures in the exhibition, 'Oth-erworldly Realms of Wu Junyong', at the Museum of Fine Arts (MFA) in Boston.
Lastly, we speak to Chris Hall, a renowned textiles collector based in Hong Kong, who shares his passion for this par-ticular art form.

FEATURES
Hiromi Kinoshita. Mythical Creatures at the Philadelphia Museum of Art
Harrison Schley. Edmund Zalinski: American Civil War Soldier to Japanese-Sword Scholar
Mizuho Ikeda with Alexandra Green. A Kaleidoscope of Cultures and Peoples: 'Burma to Myanmar' at the British Museum
Yupin Chung. Revisiting Chinese Works of Art in the Burrell Collection
William R. Sargent. Chinese and European Ruby-Back Porcelains
Hsueh-man Shen. Stupas by the Bridge
Jane Casey. Taklung Painting: A Study in Chronology
Patricia Eichenbaum Karetzky. We Could Be Heroes: The Art of Shen Jingdong
Nancy Berliner. Otherworldly Realms of Wu Junyong