---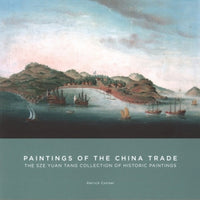 - Size: 26.7 (L) x 28 (W) cm
- Binding: Paperback, 200 pages
- Language: English
- Author: Patrick Conner
- Publisher: Hong Kong Maritime Museum, 2013
The Sze Yuan Tang Collection of Historic Paintings ranks as one of the most important collections of China Trade paintings. Conner's publication places the rich imagery of the period in context with the culture and history creating a work that is far more than just a pretty presentation piece but a resource into the trade that drove the world into the modern era.
There are 177 colour reproductions that are described by the author with careful insights that go beyond the title, artist's name and date. China Trade painting are known to be filled with symbolism, corporate colours and unique landscapes. Conner reveals more than just the paint on the surface.
Paintings in the collection include works by William Alexander, George Chinnery and Lamqua.