---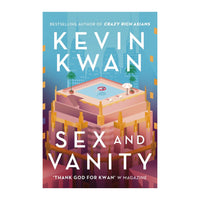 Program 14 November 2020: Sex and Vanity: Kevin Kwan in Conversation
- Size: 23.3 (L) x 15.3 (W) cm 
- Binding: softcover, 345 pages
- Language: English
- Author: Kevin Kwan
- Publisher: Hutchinson, 2020
The iconic author of the bestselling phenomenon Crazy Rich Asians returns with the glittering tale of a young woman who finds herself torn between two men.
An Independent BEST BOOK OF 2020
On her very first morning on the jewel-like island of Capri, Lucie Churchill sets eyes on George Zao and instantly can't stand him. She can't stand it when he gallantly offers to trade hotel rooms with her so that she can have a view of the Tyrrhenian Sea, she can't stand that he knows more about Casa Malaparte than she does, and she really can't stand it when he kisses her in the darkness of the ancient ruins of a Roman villa.
The daughter of an American-born Chinese mother and a blue-blooded New York father, Lucie has always sublimated the Asian side of herself, and she adamantly denies having feelings for George. But several years later, when George unexpectedly appears in East Hampton, where Lucie is weekending with her new fiancé, she finds herself drawn to him again. Soon, Lucie is spinning a web of deceit that involves her family, her fiancé and ultimately herself, as she tries to deny George entry into her world - and her heart.
Moving between summer playgrounds of privilege, peppered with decadent food and extravagant fashion, Sex and Vanity is a truly modern love story, a daring homage to A Room with a View, and a brilliantly funny comedy of manners set between two cultures.