---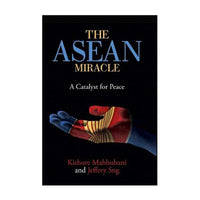 - Size: 22.8 (L) x 15.2 (W) cm
- Binding: hardcover, 286 pages
- Language: English
- Authors: Kishore Mahbubani, Jeffery Sng
- Publisher: National University of Singapore Press, 2017

The Association of Southeast Asian Nations (ASEAN) is a miracle. In an era of growing cultural pessimism, there is a pervasive belief that different civilizations cannot function together. Yet the ten countries of ASEAN are a thriving counter-example of coexistence. Here, more than 625 million people live together in peace.

In 1967, leaders from Indonesia, Malaysia, the Philippines, Singapore, and Thailand struck a landmark agreement, forming ASEAN. They had realized that political and economic cooperation would bring greater stability and prosperity to the region. Fifty years and five additional countries later, the alliance has remained one of the world's most successful collaborations. Kishore Mahbubani and Jeffery Sng explain how this partnership has benefited the ten member countries and why it should serve as a model for other regions of the world, challenging our assumptions about international cooperation. As the world turns to Asia and the United States and China jostle for dominance, the ASEAN region will have an undeniably powerful role in shaping our global systems. Mahbubani and Sng offer an important primer for understanding this immensely successful—and woefully underappreciated—regional organization.