---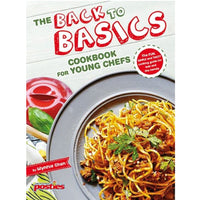 - Size: 27.5 (L) x 20.5 (W) cm
- Binding: softcover, 122 pages
- Language: English
- Author: Wynnie Chan
- Publisher: South China Morning Post Publishers Limited, 2019

Hungry for Fun?
Try cooking together with your child, family and friends!
SCMP Young Post and Posties are proud to present "The Back to Basics Cookbook", the ultimate collection of 47 healthy and family-friendly recipes, which all come with a complete breakdown of their nutritional values. What's more, you can learn English words from a comprehensive glossary of common cooking terms.