---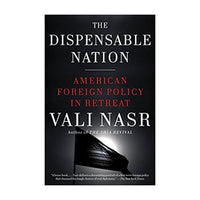 - Size: 24 (L)x 16 (W)cm
- Binding: hardcover, 320 pages
- Language: English
- Author: Vali Nasr
- Publisher: Doubleday, 2013

Vali Nasr, author of the groundbreaking The Shia Revival, worked closely with Hillary Clinton at the State Department on Afghan and Pakistani affairs. In The Dispensable Nation, he takes us behind the scenes to show how Secretary Clinton and her ally, Ambassador Richard Holbrooke, were thwarted in their efforts to guide an ambitious policy in South Asia and the Middle East. Instead, four years of presidential leadership and billions of dollars of U.S. spending failed to advance democracy and development, producing mainly rage at the United States for its perceived indifference to the fate of the region.

After taking office in 2009, the Obama administration had an opportunity to fundamentally reshape American foreign policy, Nasr argues, but its fear of political backlash and the specter of terrorism drove it to pursue the same questionable strategies as its predecessor. Meanwhile, the true economic threats to U.S. power, China and Russia, were quietly expanding their influence in places where America has long held sway.

Nasr makes a compelling case that behind specific flawed decisions lurked a desire by the White House to pivot away from the complex problems of the Muslim world. Drawing on his unrivaled expertise in Middle East affairs and firsthand experience in diplomacy, Nasr demonstrates why turning our backs is dangerous and, what's more, sells short American power. The United States has secured stability, promoted prosperity, and built democracy in region after region since the end of the Second World War, he reminds us, and The Dispensable Nation offers a striking vision of what it can achieve when it reclaims its bold leadership in the world.