---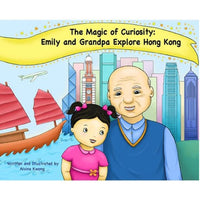 Program 31 October 2020: The Magic of Curiosity: Emily and Grandpa Explore Hong Kong
- Size: 20.5 (L) x 25.5 (W) cm
- Binding: softcover, 44 pages
- Language: English
- Author & Illustrator: Alvina Kwong
- Publisher: South China Morning Post Publishers Limited, 2019

One Saturday morning, Grandpa decides to take Emily on an extraordinary magical adventure. With the help of Wise Owl's magic sprinkles, Emily and Grandpa travel around Hong Kong like never before.
The Magic of Curiosity: Emily and Grandpa Explore Hong Kong tells the tale behind Hong Kong's famous locations, transportation and historical heritage. What's more, it comes with English learning exercises, fun facts, a read-along audio video digital link, and nostalgic photos of Hong Kong from the South China Morning Post archives!
Join Emily and Grandpa as they explore Hong Kong with wonder today!