---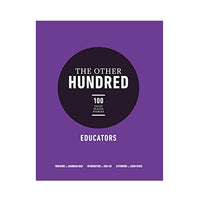 - Size: 30 (L) x 23.8 (W) cm
- Binding: hardcover, 240 pages
- Language: English
- Compiler: Global Institute For Tomorrow 
- Editor: Chandran Nair
- Publisher: Oneworld Publications, 2017
On the mountains and beneath the waves, beside railway tracks and aboard buses, in prisons and in the tents of nomads, here are the world's most extraordinary classrooms.
Selected from nearly 1,000 submissions sent in from more than 130 countries, The Other Hundred Educators' 100 photo-stories travel the globe in search of our greatest unsung teachers.

With an introduction by the novelist Gish Jen, an afterword by anthropologist Jason Hickel and personal reflections from anti-schooling activists Bayo Akomolafe and Manish Jain, Portuguese writer Susana Moreira Marques, Academy Award-winning film-maker Sharmeen Obaid-Chinoy, Brazilian novelist Luiz Ruffato, Lebanese thinker Hani Soubra, and linguist and teacher Yalmay Yunupingu, The Other Hundred Educators is an invitation to think anew about learning in the 21st century.