---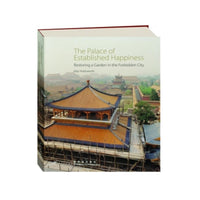 Upcoming Program: The Palace of Established Happiness on Aug 22, 2022, Mon
 
- Size: 25.5 (L) x 21 (W) cm
- Binding: paperback, 224 pages
- Language: English
- Author: May Holdsworth
- Publisher: Forbidden City Publishing House, 2008

The Qianlong emperor considered gardens essential to a ruler's mental and emotional well-being. The first garden he built, begun in 1742, was attached to Jianfu gong, the Palace of Established Happiness, in the northwest quarter of the Forbidden City in Beijing. Filled with exquisite pavilions, weathered rocks, sunken courtyards and winding galleries, this garden became Qianlong's favorite retreat. He kept the most precious ancient scrolls from his art collection in one of the pavilions there. In 1923, when the deposed emperor Puyi still lived in the Forbidden City, the garden burned down. For three-quarters of a century the devastated garden's cracked stone foundations, terraces and column plinths lay untended beneath a pile of rubble - until 1998, when the Hong Kong based China Heritage Fund offered to support a restoration. A restoration within the Forbidden City, which required nothing less than the blessings of China's State Council, was to prove a challenge in unexpected ways. The character of a Chinese garden, typically created by architecture rather than horticulture, called for a revival of traditional skills and crafts which had all but died out. Attitudes toward conservation and authenticity among the guardians of China's past are vastly different than those cherished in the West.
This book is an account of the ambitious five-year restoration. May Holdsworth followed the project from the beginning and was given full access to those involved. She was helped by researchers who combed through the imperial archives for every detail of the original site. Through extensive use of these records, she brings the historical Garden vividly to life.
But the main story is that of the Garden's 21st-century re-creation. Each step of the reconstruction of the garden pavilions, from their carved stone plinths and painted columns to their brilliant yellow roofs, is lucidly described and lavishly illustrated. Along the way, the grace, practicality and symbolic elements of traditional Chinese architecture are revealed. What emerges as well is a divergence of cultures and expectations, for this is also the story of an uneasy collaboration between a museum which was not always sympathetic to change and an internationally-funded organization that aimed to make the restoration a model of its kind.