---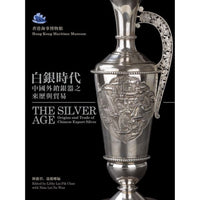 - Size: 29.5 (L) x 22.5 (W) cm
- Binding: Paperback, 275 pages
- Language: English, Chinese
- Authors: Libby Lai-Pik Chan
- Publisher: Hong Kong Maritime Museum Limited, 2017
This exhibition catalogue produced by the Hong Kong Maritime Museum was created to accompany "The Silver Age" exhibition held between 19 December 2017 and 25 February 2018.
The publication features over 200 individual export silver exhibits drawn from the Guang-dong Museum, the Hong Kong Maritime Museum, the HSBC Archives, the Hong Kong Museum of Art, Hong Kong Museum of History and a number of leading local collectors.
In addition to over 100 illustrations, the catalogue features seven interdisciplinary essays which contextualise the exhibits and provides a record of this ground breaking exhibit suitable for both the general reader and the specialist.