---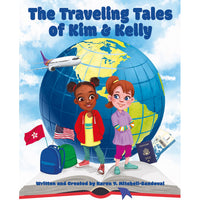 Sale
- Size: 26 (L) x 21 (W) cm
- Binding: Paperback, 40 pages
- Language: English
- Author: Karen Y. Mitchell-Sandoval
- Illustrator: Li Dan
- Publisher: Iris Publishing Ltd., 2020
"The Traveling Tales of Kim & Kelly" is Karen Mitchell-Sandoval's new children's book that will generate conversation and assist with teaching children about passports, geography, domestic travel, international travel, and about the joys of family togetherness!
The main characters in this modern day story are a girl named "Kim" and a girl named "Kelly." Kim and Kelly are first-cousins.
​Despite the geographical distance that separates them, the two girls are determined to do what it takes to spend time with each other, to travel, and to visit their grandparents who live in a different country!