---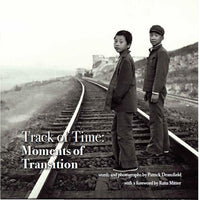 Program 20 January 2021: Track of Time: Moments of Transition Virtual presentation, with photographs, by Patrick Dransfield

- Size: 25.4(L) x 25.4 (W)cm
- Binding: softcover, 100pages
- Language: English
- Author: Patrick Dransfield
- Published in Hong Kong by Patrick Dransfield in 2021
Patrick Dransfield, a long-term resident of Hong Kong, has long attempted to express through the medium of photography and writing, the empathetic connectedness we share as human beings. He has a deep interest in the visual arts and literature, of both the west and China.  "It is my profound hope that through preserving these fleeting moments of Beijing street life from the 1980s, east and west can once again be reminded of our common humanity: our common needs, desires, hopes and dreams."
A trove of lost photographs shows China on the cusp of change.  "Track of Time" includes a foreword by Rana Mitter, essays and descriptions by Patrick Dransfield, and over 60 black and white pictures, taken by Patrick in Beijing and Datong in 1986. 
The "Track of Time" collection recently featured in the Financial Times "How to Spend It" magazine (October 17, 2020) and the exhibition of the same name, curated by Carsten Schael, at the Hong Kong Foreign Correspondents' Club.  
Special Deluxe Limited Edition A (Artist's Selection, strictly limited edition of 20):
Price: HK$10.999
A signed copy of "Track of Time" with 4 original prints reproduced and presented in a hand-crafted slip case: signed and chopped by the author and hand reproduced by internationally renowned Chao Studios on museum quality Hahnemuhle paper.
Datong Kids, Children Under Mao, First Love, Pensioner Couple

Special Deluxe Edition B:
Price: HK$12.999
As in Edition A, plus your own selection from the "Track of Time" Archive.